You can read the English text below the Dutch text.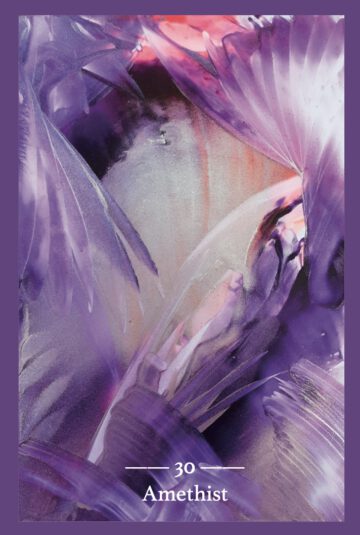 De mooiste kristallen worden vaak in het diepst van de Aarde gevonden. Meestal verborgen onder een niet zo'n mooie bovenlaag. Zien we de binnenkant dan valt onze mond vaak open van verwondering. De energie van bepaalde stenen is ook nog eens heel krachtig en zuiver. Zoals die van de Amethist. Een helder en zuiver kristal. Deze bevordert innerlijk leiderschap en wijsheid en ondersteunt bij het jezelf (terug)vinden. In deze kaart kun je een man zien staan, leunend tegen de muur van een grot. Hij wordt omringd door de schittering van geweldig grote Amethisten. Op die plek stroomt het licht vanuit de Bron naar binnen en zijn alle moeite, zijn alle processen snel vergeten. Dit is waar hij naar op zoek was, het Licht vanuit de Bron. Deze kaart nodigt je uit om vol vertrouwen naar diepere lagen te gaan. Contact te maken met Amethist zodat je meer of weer contact maakt met je innerlijke leiding en wijsheid. Laat het helende Licht van de Amethist je lichaam opvullen.
Affirmatie: "Ik reik uit naar de mooiste schatten diep in mijzelf en vul ze op met tintelend helend Licht."
~~~
English:
The most beautiful crystals are often found in the deepest parts of the Earth. Usually hidden under a not so beautiful top layer. When we see the inside, our mouths often open in amazement. The energy of certain stones is also very powerful and pure. Like that of the Amethyst. A clear and pure crystal. It promotes inner leadership and wisdom and supports you in finding yourself again. In this card you can see a man standing, leaning against the wall of a cave. He is surrounded by the brilliance of great Amethysts. In that place the light from Source is pouring in and all efforts, all processes are quickly forgotten. This is what he was looking for, the Light from Source. This card invites you to proceed to deeper levels with confidence. Make contact with Amethyst so that you can create more, or a deeper connection with your inner guidance and wisdom. Let the healing light of Amethyst fill your body.
Affirmation: "I reach out to the most beautiful treasures deep within me and fill them with tingling healing Light."