You can read the English text below the Dutch text.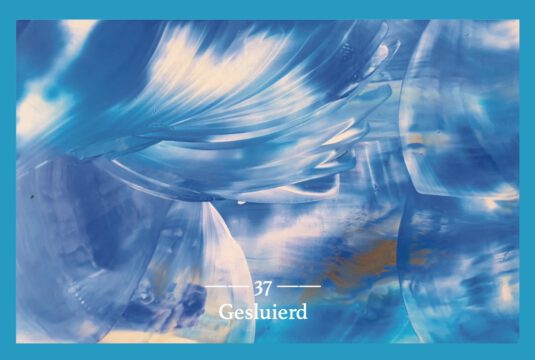 Het kan zijn dat je je op dit moment in een situatie bevindt waarvan je het idee hebt dat je zelf niets kunt veranderen. De vrouw op deze kaart lijkt gesluierd. Voelt zich aan banden gelegd. Ze denkt dat ze niets ziet en niets te zeggen heeft maar ergens voelt ze angst om werkelijk te zien en haar waarheid te spreken. Werkelijk alles onder ogen te zien. Ook haar eigen nog te helen stukken. Ze heeft niet in de gaten dat bovenin de kaart tussen haar eigen sluiers de vingers van een hand te zien zijn. Ze staan klaar om de sluiers te verwijderen maar wachten op toestemming. Toestemming om open, eerlijk en integer naar zichzelf en anderen te kijken. Het snuitje van de dolfijn onder in de tekening lijkt wat uitdagend tegen de onderkant van de mond te duwen. Alsof hij wil aanmoedigen om de volgende woorden uit te spreken: "Verwijder de sluiers. Ik ben er klaar voor".
Affirmatie: "Ik eer mijn eigen waarnemingen. Niets hoeft meer verborgen te blijven. Alle kracht zit al in mij. Ik ben er klaar voor"
~~~
English:
It may be that you are currently in a situation where you feel you cannot change anything yourself. The woman on this card looks veiled. She feels restricted. She thinks she sees nothing and has nothing to say, but somewhere she feels fear to really see and speak her truth. To truly face everything. This includes her own parts that still need to be healed. She has yet to realise that at the top of the map, between her own veils, the fingers of a hand are visible. They are ready to remove the veils but are waiting for permission. Permission to look openly, honestly and with integrity at herself and others. The snout of the dolphin at the bottom of the drawing seems to be pushing up with its mouth in a defiant way. As though encouraging her to speak the following words: "Remove the veils. I am ready."
Affirmation: "I honour my own perceptions and experiences. Nothing needs to be hidden anymore. All power is already within me. I am ready for it".