You can read the English text below the Dutch text.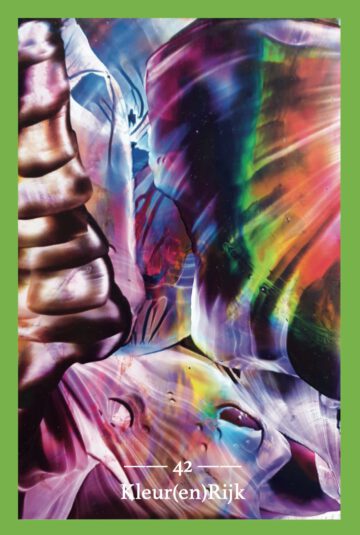 In deze kaart zijn Chakra kleuren vertegenwoordigd. Ze representeren overleving, emoties, wilskracht, gevoelens, communicatie, visie en helder weten. Een kaart die de kracht van levensenergie laat zien. Chakra's zijn niet direct zichtbaar maar wel voelbaar. Is er in een van de chakra's een stagnatie dan kunnen we dat gewaar zijn en ook helen. De persoon die zich laat zien in deze kaart voelt als een boegbeeld. Alle chakra kleuren laten zich krachtig zien. Los van de betekenissen van de kleuren van de chakra's, kun je je afvragen wat een kleur met je doet. Voor iedereen is dat anders. Er kunnen allerlei vaste betekenissen aan kleuren worden gegeven maar wat doet een kleur met jou? Kies 2 kleuren uit. Welke vind je mooi en welke minder? Maak dan contact met je innerlijke leiding en vraag waarom je deze 2 wel en niet of minder mooi vindt. Wat willen de kleuren je vertellen? Wat geven ze je terug aan informatie?
Affirmatie: "Zodra ik mij verbind met mijn KleurenRijk ontpopt zich nieuw leven."
~~~
English:
Chakra colors are represented in this card. They represent survival, emotions, willpower, feelings, communication, vision and clear knowledge. A card that shows the power of life energy. Chakras are not directly visible but can be felt. If there is stagnation in one of the chakras, it can be sensed and also healed. The person who shows up in this card feels like a figurehead. All the chakra colors show themselves powerfully. Apart from the meanings of the colors of the chakras, you can ask yourself what a color does to you. This is different for everyone. All kinds of fixed meanings can be given to colors but what particular effect do certain colors have upon you? Choose two colors. Which one do you like and which one do you dislike? Then connect with your inner guidance and ask why you feel these preferences. What do the colors want to tell you? What information do they convey?  
Affirmation: "As soon as I connect with my ColorRealm, new life emerges."