You can read the English text below the Dutch text.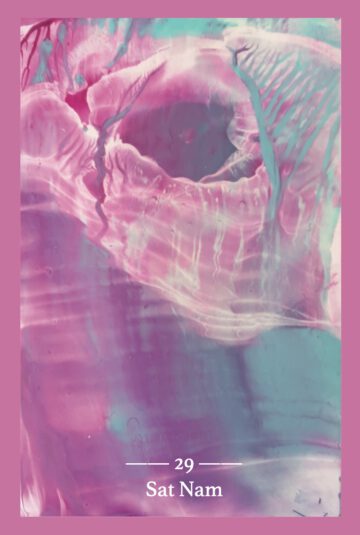 Mudra's zijn handgebaren die je meditatie kunnen versterken. Elke vinger vertegenwoordigt een deel van het lichaam. Mentaal, fysiek en energetisch. Door het contact of de druk van vingers tegen elkaar worden meridianen (energiekanalen) geactiveerd en kan energie vrij stromen. Nu je deze kaart hebt gekozen is het tijd om aandacht te geven aan het activeren of doorstromen van energiekanalen. Deze kaart brengt je in contact met Sat Nam, je ware identiteit. Door je duim en wijsvinger met elkaar in contact te brengen en het woord Sat Nam uit te spreken, en dat steeds te herhalen, kom je in contact met je wezenskern. Je eigen goddelijke vonk. Het is een eenvoudig gebaar die veel mensen van nature al maken tijdens meditatie. Het geeft direct rust.
Affirmatie: "Elke bewuste handeling brengt me dichter bij mijn kern."
~~~
English:
Mudras are hand gestures that can strengthen your meditation. Each finger represents a part of the body. Mentally, physically and energetically. Through the contact or pressure of fingers against each other, meridians (energy channels) are activated, assisting energy to flow freely. It is time to give attention to activating or allowing energy channels to flow clearly. This card brings attention to your connection with Sat Nam, your true identity. By connecting your thumb and index finger and pronouncing the word Sat Nam, and repeating it over and over again, you make contact with your core being. Your own divine spark. It is a simple gesture that many people naturally make during meditation. It immediately gives peace.
Affirmation: "Every conscious action brings me closer to my core."