You can read the English text below the Dutch text.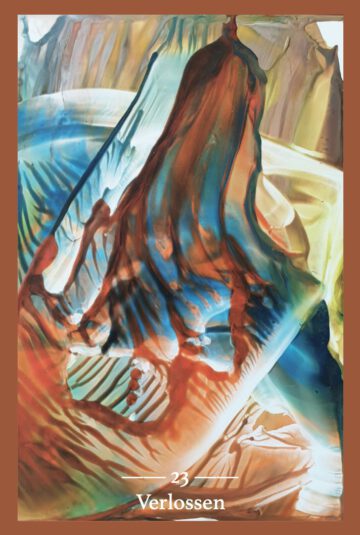 Er zijn momenten in ons leven dat we het gevoel hebben geleefd te worden. Dat anderen te veel aan ons hangen of we te veel geven en daardoor uitgeput raken. Onze energie raakt op en we worden prikkelbaar of verdrietig en als het een langere tijd aanhoudt dan kan het resulteren in uitputting. Op deze kaart zie je hoe de energie een soort van afgetapt wordt. Deze kaart vraagt om onderzoek en zelfzorg.
De vrouw die bovenin de kaart staat wijst je de weg. Maak je los van taken die je jezelf hebt opgelegd en je uitputten. Zijn die taken of zorgen voor de ander nog nodig? Brengt het je vreugde? Ga er dan mee door. Put het je uit? Neem dan een beslissing vanuit Zelfzorg.
Affirmatie: "Ik vul mijzelf op met helend wit Licht zodat ik gezond en vitaal blijf."
~~~
English:
There are times in our lives when we feel we are being lived, that others hang too much on us or we give too much and become exhausted. We run out of energy and become irritable or sad. If this continues for a long time it can result in exhaustion. This card shows how the energy is sort of drained. This card calls for examination and self-care. 
The woman at the top of the card shows you the way. Detach yourself from tasks you have imposed on yourself that are exhausting you. Are these tasks or cares for the other still necessary? Does it bring you joy? Then continue with it. Does it exhaust you? Then take a decision from Self-care. 
Affirmation: "I fill myself up with healing white light so that I will stay healthy and vital."